Events
MENtal Health: It's Time to Talk
Prince Albert Golf & Curling Club
Wednesday, November 2, 2022
12-3 PM, Lunch included with ticket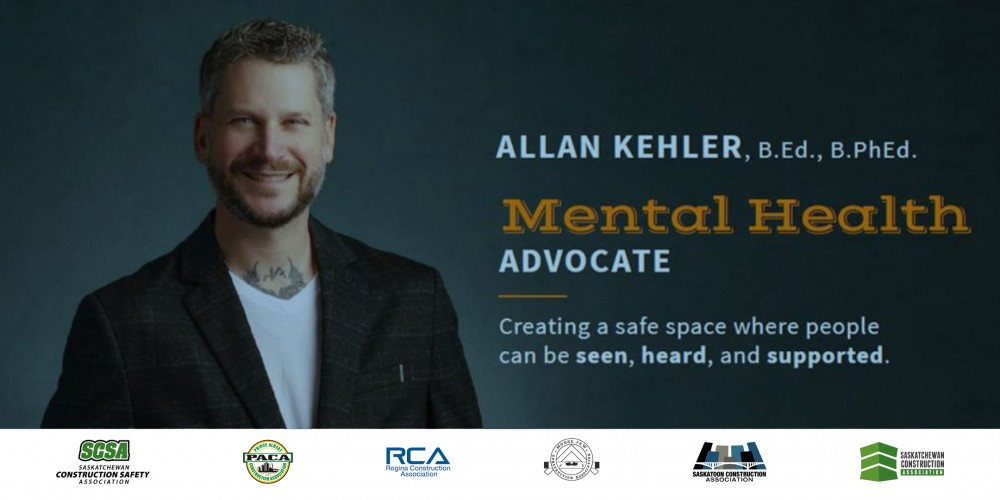 Allan Kehler discusses the relationship between men, mental health and the importance of reaching out for help.
This event is brought to you by the SCSA and the Saskatchewan network of commercial construction associations.
The relationship between men and mental health has often been referred to as a silent crisis. Mental wellness is becoming a big concern on construction worksites and many workers do not seek help when experiencing significant mental distress. In an effort to avoid being perceived as weak or vulnerable, many men have a tendency to bury their emotions deep within.
Based on Allan's bestselling book MENtal Health: It's Time to Talk, this keynote features stories of Saskatchewan men who have persevered through mental health challenges. These lived experiences provide a better understanding of topics relating to masculinity, mental illness, addiction, sexual abuse, suicide, and ultimately wellness.
Audience members will benefit from this timely message in various ways. Men will be able to relate to other men's experiences, recognize that vulnerability is often met with compassion, not judgment, and understand the freedom that comes from reaching out for help. Women will gain a new perspective on this issue and receive the confidence to reach out and connect with the men in their lives.
Break the silence surrounding men's mental health - the time to talk is now.
---
Please follow our Newsfeed, Facebook, Twitter, and YouTube pages for event coverage. To sign up for the monthly SCSA e-Newsletter, follow this link: www.scsaonline.ca/e-news
...