SCSA Awards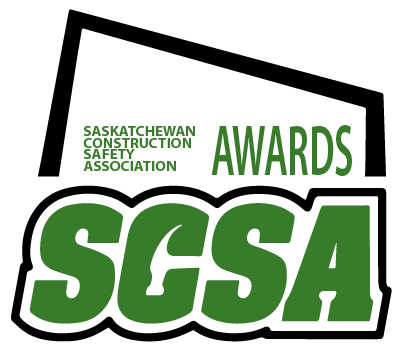 About the SCSA Awards
Each year the Saskatchewan Construction Safety Association (SCSA) acknowledges member companies and individuals throughout Saskatchewan for efforts given to promote the SCSA's mission and vision.
Mission - Promote safety within the construction environment and lead the development of a safety culture through education, consultancy, and building awareness toward safer communities.
Vision - SCSA is an important voice driving a business culture of physical and mental safety for all and the centre of excellence for construction safety training programs.
Winners and finalists benefit from peer recognition, professional achievement, and media exposure that they can use to self-promote as leaders in construction safety.
View Awards Criteria
Corporate Leadership in Safety Award is presented to a member company in recognition of their dedication, outstanding contribution, commitment and leadership to support the SCSA's mission and vision to enhance health and safety in the workplace.
Safety Leader Award recognizes an individual who is a senior leader in a member company, shows leadership in the industry, involvement in community activities, and dedication to advancing the mission and vision of the SCSA.
Safety Practitioner Award is presented to an individual who works in the field or office of a member company, recognizing their dedication, contributions, commitment to safety and embodiment of the SCSA's mission and vision to create a healthy and safe workplace.
Eligibility
Award nominees must be an SCSA member company or be employed by a member company.
Awards Committee and Selection Method
An award committee consisting of two members from the SCSA board of directors and a senior member of the SCSA operations leadership group review the nominations. A standardized evaluation scorecard is used to grade each application. These scorecards are then sent to a third party to select the winner and finalists of each category based on overall scores.
Award Finalists and Winners
Finalists and winners are notified by email. Winners are presented with an award and receive special acknowledgment in various SCSA marketing materials, including the SCSA Safety Advocate online magazine, the SCSA website and social media channels. Additionally, winners receive an SCSA promo package, press release template and custom logo for use in their marketing activities for one year. Finalists receive a plaque and a custom logo for their use in email signatures or marketing activities for one year.
---
2023 Winners
Corporate Leadership in Safety Award
Ram Steel
Safety Practitioner Award
Kevin Lavoie (Supreme Steel)
Safety Leader Award
Dustin Brears (Credence Construction)
2022 Winners
Corporate Leadership in Safety Award
Safety Practitioner Award
Amy Welder (Century West)
Safety Leader Award
Katherine Leslie (miEnergy)